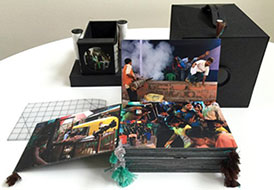 Mãyã-bheda, Kolkata during Durga Puja
By Sammy Seung-Min Lee and Joshua Bergeron
Denver, Colorado: Studio SML/k, 2016. Edition of 30.
5.25"W x 7.5"D x 5.5"H case made with binder's board, a photographic filter, book cloth, tyvek, leather, tassels, magnetic closure, and Kodak film spools. Includes pamphlet (6" x 4"; 8 pages; sewn binding) with an essay by Joshua Bergeron. 33 double-sided photo panels with tyvek binding. Tassels attached for handling panels. 27 instagram photos inkjet printed in a scroll called KolCutta Travel Mag. Signed and numbered by the artists.
Sammy Lee: " Mãyã-bheda is the second collaboration on India with Boulder based photographer Joshua Bergeron. The images were taken in October 2015, during the Bengali holiday of Durga Puja, in the capital of West Bengal - Kolkata, India. Using a combination of images from an iPhone as well as a conventional digital point-and-shoot camera, images were captured candidly within the documentary and street photography genre. The construction of the case and interior components are based upon the design of the original Kodak camera released in 1888, by George Eastman, which in many ways brought portable photography to the masses.
"In Hinduism, the term Mãyã-bheda refers to the destruction of perceived reality. The book serves as a vehicle to examine the assumptions and perceived realities of India for both Bergeron and me. The cameras used for images and the graduated orange lens on the outer shell of the book explores the notions of how India is interpreted by optical tools. For viewers, the interactive viewing experience of the book will offer a chance to examine their own perceived realities of India."
goindia.about.com (accessed 5/25/2016): "Durga Puja is a celebration of the Mother Goddess, and the victory of the revered warrior Goddess Durga over the evil buffalo demon Mahishasura. The festival honors the powerful female force (shakti) in the Universe. Durga Puja is celebrated in West Bengal, particularly in the city of Kolkata. It's the biggest and most important occasion of the year there.
"The start of the festival sees huge, elaborately crafted statutes of Goddess Durga installed in homes and beautifully decorated podiums all over the city. At the end of the festival, the statutes are paraded through the streets, accompanied by much music and dancing, and then immersed in the water.
"The Durga Puja festival is an extremely social and theatrical event. Drama, dance, and cultural performances are widely held. Food is a huge part of the festival, and street stalls blossom all over Kolkata. In the evenings, the streets of Kolkata fill with people, who come to admire the statues of Goddess Durga, eat, and celebrate."
$1,250