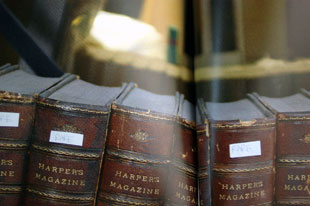 Sporting a Giant Fly Head
By Clifton Meador
Rochester, New York: Clifton Meador, 2012. Edition of 100.
6 x 9"; 68 pages. Print-on-demand interior casebound book. In a four-color "psychedelic" letterpress printed dust jacket. Black and white photographs taken at Visual Studies Workshop.
Clifton Meador: "In December of 2011, I spent a week at the Visual Studies Workshop in Rochester, New York, doing research into the history of photobooks. The archive and library there have wonderful resources, among them an extensive collection of photobooks, with important holdings of some of the great documentary books of the 1930s: American Exodus, Have Your Seen Their Faces, and Paris de Nuit are just a few of the remarkable books there.
"The importance of Visual Studies Workshop in the history of artist-produced books (which is just a tricky way of saying artist's books while trying to avoid the baggage of that term) is moderately well-known in the discourse of book art, but it is still underappreciated. Personally, it was the single greatest source of inspiration for my work, particularly as a young artist. The work of Keith Smith, Joan Lyons, Syl Labrot, Kevin Osborn, Phil Zimmermann, and many others connected to VSW forms some kind of lineage in my practice: I still think about their work often.
"So to be there for a week, looking at old books, living in the apartment there was a strange experience of overlaying the past with the present: two of the books I did in the 1990s, Memory Lapse and Whisky Defense, were largely produced there (both were actually printed at Nexus Press). The two projects were the result of intense work in the print studio at VSW (prepress and making film). I spent weeks in those studios – happy, productive weeks of creative ferment.
"In the 1958 film The Fly, the protagonist, a visionary young scientist, is the victim of an accident when his invention, a disintegrator-integrator, recombines his body with that of a fly. The resultant chimera, a fly-headed man (along with a human-headed fly) is a nightmarish monster, repugnant but still essentially human, with human desires. The narrative tension between this monster and the slowly developing horror in his human relationship as he becomes less and less human seems like a perfect allegory of aging: the decay of the body is not exactly mirrored by a decay of the mind, and looking into a mirror is more often a shock of horror than a moment of recognition.
"Books are clearly objects of memory and that they function as repositories of the past is an obvious idea. Spending time with old books from my personal past was doubly resonant, and to do so in a place that is filled my own memories was very dislocating.
"I printed a four-color letterpress dust jacket for this work as a way of trying to make the material object of this book less indistinct: one problem with print-on-demand books is that the one-size-fits-all nature of the process produces a homogenized work (to use Buzz Spector's clever observation) a work that lacks presence through individuality.
"And there is one advantage to having a fly head: a fly's compound eyes see things that we cannot imagine."
$30