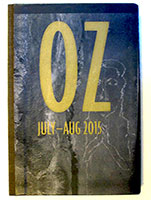 OZ July - Aug 2015
By Brad Freeman
Chicago: Brad Freeman, 2016. Edition of 100.
6 x 9.5"; 106 pages including free-end pages. Printed on Mohawk Superfine ultrawhite smooth 100 lb text. Printed on a Heidelberg GTO52 ein farben. Printed images created with CMYK, tritones, metallic inks, and "secret sauce." Bound in paper over boards with cloth spine. Signed, dated and numbered by the artist.
Brad Freeman, Colophon: "Oz is a visual poem based on photographs taken during my stay in Australia in July and August, 2015. The impetus for the trip was the Artist Book Brisbane Evenet (ABBE) at the Queensland College of Art, and I decided to extend my stay, because, who knows, I may never go to the Antipodes again. The photographs retain a trace of their documentary aspect and provide the foundation for this poetic response to a history of Australia, which starts and ends in a conception of Aboriginal dream time. This book was created before and during the printing - printed sheets provided areas, forms, and ideas to grow the project in ways unseen at the beginning."
Includes table with image identifications corresponding to the sequence of pages in each of the four signatures.
Brad Freeman: "The idea of identifying the locations where the photographs were taken comes from Yutaka Takanashi's book Toshi-e (Towards the City). And with this gesture Takanashi acknowledge the documentary essence of photography in his extraordinary visual poem.
"Sewn into the colophon pages of the book is another, small book (there are actually two small books sewn into OZ). The little book in the colophon area contains all the words that are printed in OZ. I thought of this after the printing was completed for the book itself (OZ). The reason is that in the colophon I state that OZ is a visual poem, but in fact there are a LOT of words in it and the words are very much a part of the meaning of the book. And I thought if the words were presented this way that a further meaning, a type of re-reading, could occur for the perceptive viewer."
$250