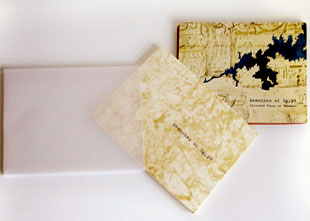 Memories of Egypt
Selected Views of Bazaars
By Amandine Nabarra-Piomelli
Milan, Italy: Amandine Nabarra-Piomelli, 2011. Edition of 40.
8.6 x 6.75"; 12 pages. Modified double-sided accordion structure. One side has two Italian map folds, each sitting in the valley fold of the main structure. The other side is a more conventional accordion with 6 panels of photographs sitting in the valley fold of the main structure. Printed offset. Both covers treated with a sand texture and embossed.
Slipcased: Book slipped into matching full band with printed title, which then fits into an opaque envelope.
Boxed: Book in cloth-covered custom box with snap closure and paper title label that contains a smaller hard-sided pop-up holder that book slips into.
Colophon: "This book is made of two maps, Northern and Southern Egypt, as well as a photo album of selected views of the Bazaars in Luxor and Cairo. It is based on a fascinating journey through an historical land of sand, desert, and lush river bands, busy cities, and quiet villages."
Amandine Nabarra-Piomelli: "It is a book that has no beginning and no end. The reader starts reading turn the book read again and turn it again. The covers of the book are treated so the water is smooth and glossy and the background is like sand. The book is based on two main colors: blue for the Nile river and yellow for the sand/desert. The maps are in origami to give the impression of jumping at the reader (the idea is that it is always a discovery to travel but it is also difficult to understand a new culture/country).
"This book tries to convey the explosion of information that overwhelms and fascinate travelers like me who visit Egypt for the first time. The photo-montages as well as the loop structure of the book demonstrate how difficult it is to connect all the information pertaining to the area: geographically (with the maps of Northern and Southern Egypt, made from aerial maps) and culturally (the series of photographs of bazaars). Since the majority of the territory is desert, the book's covers have been treated to allow the reader to feel the roughness of the sand and the smoothness of the water. Memories of Egypt is a yellow (the desert) and blue (the river) book that will carry the reader on a tactile and visual trip along the Nile."
$470 Slipcased
$615 Boxed