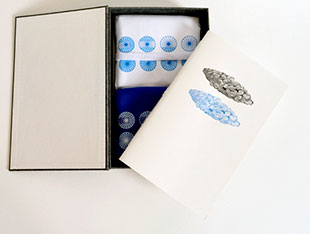 Lake + Cloud
By Katie Baldwin and Denise Bookwalter Tallahassee, Florida: Small Craft Advisory Press, 2015.
Edition of 75.
Box with pamphlet and two parachutes. Pamphlet: 6 x 9.5", 12 pages; 24 x 10.25" foldout; letterpress printed; pamphlet stitch bound in paper wrappers; numbered. Parachutes: two 5.25 x 4.75" folded; pocket enclosure (one blue with white design, one white with blue design).
In an edition of 75 with 55 regular and 20 deluxe. Regular edition in 6.5 x 9.5" archival gray box with reinforce metal brackets on the corners. Deluxe edition in 6.4 x 10" cloth covered box with three dimensional cloud and water images added to lid exterior.
The parachutes are metaphors for the transformative process of reading. Cover anything with the blue parachute and turn it into a lake, or use the white parachute to make it a cloud. A sort of book artist's version of Eliot's objective correlative?
Prospectus: "Lake + Cloud explores the expansive experience of reading by transforming the reader's physical space into a landscape containing a lake and a cloud."
Small Craft Advisory Press: "Lake + Cloud is a collaborative artists' book project between Katie Baldwin and Denise Bookwalter. In contrast to other projects underway at SCAP, the artists worked together for a month at Vermont Studio Center during a residency to plan their collaborative work. While they were planning Lake & Cloud they also worked on parallel series of individual works that investigated the original idea of Lake & Cloud. This artist book uses a pair of parachutes and an operation manual to transform space. In manipulating the object, the viewer is engaged in the process of 'reading' the book. The project illustrates the poetic and organic collaborative process from inception to object."
Katie Baldwin teaches book arts and printmaking at the University of Alabama in Huntsville. She was at Wells College from 2011 – 2013 as the Victor Hammer Fellow. She is a graduate of The University of the Arts in Philadelphia, Pennsylvania.
Denise Bookwalter is the Director of the Small Craft Advisory Press at Florida State University in Tallahassee. She is an assistant professor art and head of printmaking for FSU. She has an MFA in printmaking from Indiana University, Bloomington, IN, an MA in art education from the University of Illinois, Bloomington, IN, and a BA in geological sciences and art theory and practice from Northwestern University, Evanston, IL.
$250 Regular
$650 Deluxe