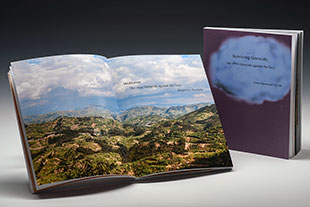 Surviving Genocide

the 1994 Genocide of the Tutsi
By Susan Viguers and Lily Yeh
Philadelphia, PA: Shandy Press / Barefoot Artists, [2017]. First Edition.
7.5 x 9.25"; 144 pages. Soft cover. Typefaces: Constantia and Lucinda Sans. Printed on White Finch Opaque Smooth Book 100# paper. Digital printing by Bookmobile, Minneapolis, MN. Perfect bound (pur glue).
Shandy Press: "'Surviving Genocide' immerses the reader in the stories of two Rwandans who as small children experienced the 1994 Genocide; it tells of the horrific tragedy each survived, the courage necessary for surviving, and the humanity they embody. Those stories are framed by two chapters chronicling and inspired by the transformation in Rugerero of a concrete burial slab into a powerful Genocide Memorial with its bone chamber, designed by Lily Yeh. An essential theme of the book is the importance of the dead for the living, of honoring the dead, of remembrance.
"'Surviving Genocide' evokes its world through images (photographs, drawings, paintings, pattern, and color) as well as words; the text itself is visually choreographed.
"The material in the book stems from Lily Yeh's multifaceted Rwandan Healing Project under the auspices of Barefoot Artists www.barefootartists.org . Susan Viguers conceived and designed the book, incorporating drawings and paintings by Lily Yeh.
"This book was made possible by a Rockefeller Foundation Bellagio Arts Residency."
$40