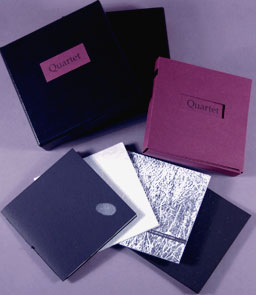 Quartet
By Judith Mohns
Auckland, New Zealand: Papyrus Productions, 1995. Edition of 300.
Each book 4.75 x 4.75". Four books laid in paper wrap enclosure with cutout for title. Housed in sturdy black archival box (5 x 5") with title on lid. Offset printed at the Elam Fine Arts Printing Research Unit at The University of Auckland, New Zealand.
Judith Mohns: "Like variations on a theme, Quartet is a set of four books, each printed on different papers and independently structured. Using transparency, gate-folds, die-cuts, two-color printing and paper manipulation, these books explore a personal journey of identity and conflict."
Each book, with form and content reflecting the slant, poses a form of the existential dilemma: What makes me me? Destiny, genes, conditioning, choice?
$150