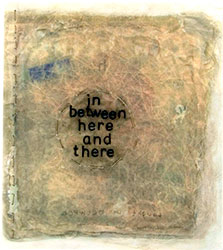 in between here and there
By Beata Wehr
Tucson, Arizona: Beata Wehr, 2002. Edition of 75.
9 x 8" with 8 pages printed inkjet on translucent Neenah paper. Sewn binding.
This is another of Wehr's explorations of self that is in suspension between two cultures - not totally a part of either but not totally independent of either.
Beata Wehr: "I focus on issues related to my experience as a Pole living in the U.S. I came here 13 years ago with no intention to stay, but I am still here. Since my connection with Poland is very strong, I feel I am in between the two cultures. In my work, I address the problems of emigration with a view to both verbal and non-verbal communication, issues of adaptation, nostalgia, isolation, dislocation and identity. I have moved many times - I've had 11 homes - so I started to redefine for myself the idea and the meaning of the home, examining my own nomadic life. It is very hard to feel a part of the local culture if you move so often; life feels even more unstable; you experience transience much more strongly."
$105