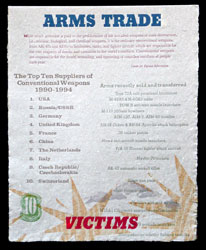 ARMS TRADE
By John Risseeuw
Tempe, Arizona: Cabbagehead Press, 1996. Edition of 150.
8 x 10" closed (folded); 8 x 20" single sheet extended. Handmade paper from shredded paper currency with rag pulp including clothing from the victims named. Handset types used include Stymie, Clarendon, Baskerville, and Neuland. Metal relief engravings and woodcuts created for the images and printed by John Risseeuw at his Cabbagehead Press in Tempe, Arizona. Signed and numbered by the artist.
Risseeuw created a piece about the world arms trade, printed on paper made from clothing of victims of armed conflict and recycled currency from the top 10 arms-exporting nations.
John Risseeuw, Content-Specific Handmade Paper in Prints and Artist Books: "I started with an appropriate quote about arms sales, then printed a list of the top ten arms exporting nations between 1990 and 1994. The U.S. was (and is to this day), to my regret, the top exporter by far. I began a list of arms sold as well as some woodcut and engraved images. Inside the piece, the facts continue about the value of arms sold, the list of arms, and more quotes and images. Included within the page are stories of victims of armed conflict, from South Africa, Iraq, and elsewhere. Finally, at the bottom, the colophon tells you that the paper you are holding was made from the paper currency of the top ten arms exporting nations (U.S., Russia, Germany, UK, France, China, The Netherlands, Italy, Czech Republic, and Switzerland) mixed with clothing from the victims of armed conflict named above. For example, a papermaker friend in South Africa knew a woman whose sister had been murdered by the Security Police in 1985. She sent me a cotton skirt once belonging to her sister and it was pulped for this paper. A colleague at my university in the mathematics department is an Iraqi Kurd, who was chased out of northern Iraq with the other people of his family and village when the Iraqi army began shelling it. The paper contains clothing from people killed in that action sent from relatives who are still in exile in southern Turkey.
"Repeatedly, I have found that the impact of this piece is increased when people read about, or are told, the content of the paper. Some, in shock, have dropped it, unable to bear the weight of the connection linking arms, money, and death. It is so simple, making the paper from these materials, yet the piece becomes a conceptual whole that is much more powerful. It has a wholeness like that of the farm keepsake - a satisfying unity and rightness - making the art into an object for deeper and further consideration, rather than merely a representation of an idea. The paper is not merely a substrate holding representative marks; it becomes something greater. A friend calls this Symbolic Paper, but I think it may be more than that."
(SOLD)