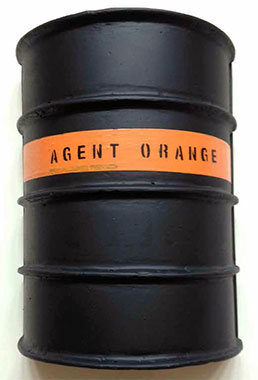 Agent Orange
An American Legacy in Vietnam
with an introduction
by Catherine Karnow by C. David Thomas
Wellesley, Mass : C. David Thomas, 2015. Edition of 50.
6 x 8.5"; 61 pages. Printed inkjet using and Epson Stylus Photo R2880 inkjet printer with archival ink and paper. Text printed on Arches 88 Silk Screen paper made in France; Myriad Pro font. Images printed on photographic paper. Presented in a lacquered wood and curved composite box 11 x 8 x 4" made by craftsmakers in Hanoi, Vietnam. Box in a handmade silk bag made by Vietnamese-American women working at the Southeast Asian Coalition in Worcester, Massachusetts. Silk cloth handwoven in Van Village near Hanoi. Signed and numbered by the artist.
Subjects covered include
Agent Orange: A War Story by C. David Thomas

Tiger Lillies in Asia

Agent Orange Facts

American Veterans Law Suit Against the Manufacturers of Agent Orange

Vietnamese Victims Class Action Lawsuit in U. S. Courts
Prospectus: "The subject of this sixty-one page artist's book is Agent Orange, the deadly dioxin contaminated defoliant used in Vietnam between 1961 and 1971…
"'Agent Orange' refers to a blend of tactical herbicides the U.S. military sprayed in the jungles of Vietnam and around the Korean demilitarized zone to remove trees and dense tropical foliage that provided enemy cover and to take away food supplies for the enemy. Herbicides were also used by the U.S. military to defoliate military facilities in the U.S. and in other countries as far back as the 1950s. Today, dioxin is known as one of the most deadly synthetic chemicals. Three ounces of dioxin placed in the New York City drinking water supply could wipe out the city's entire population. (Russell Mokhiber, The Multinational Monitor, April 1987, Volume 8, Number 4).
"About 28 of the former US military bases in Vietnam where the herbicides were stored and loaded onto airplanes may still have high level of dioxins in the soil, posing a health threat to the surrounding communities. Extensive testing for dioxin contamination has been conducted at the former US air bases in Da Nang, Phu Cat, Pleiku, and Bien Hoa. Some of the soil and sediment on the bases have extremely high levels of dioxin requiring remediation. The Da Nang Airbase has dioxin contamination up to 350 times higher than international recommendations for action. The contaminated soil and sediment continue to affect the citizens of Vietnam, poisoning their food chain and causing illnesses, serious skin diseases, and a variety of cancers in the lungs, larynx, and prostate.
" Forty-five years have passed since I left Vietnam in 1970, and thought I had also left that confusing war behind me. But more than four decades later I am still trying to figure out what all that really meant to me and to my country. Increasingly this means learning what we did to the Vietnamese people and their beloved homeland.
" In 1987, I returned to Vietnam for the first time since leaving in 1970. It was during that trip that I met Hanoi artist Le Tri Dung, who showed me some of his powerful paintings depicting horribly deformed fetuses that he believed had been caused by their parents exposure to Agent Orange. This was the first time I had ever thought about the exposure of the Vietnamese to this deadly dioxin. After all, most American soldiers spent less than a year in Vietnam while the Vietnamese people, both military and civilian, young and old have been living, hunting, fishing, and farming this contaminated soil since the 1960s. They eat the fish, ducks and other animals who have been dining on this deadly cocktail of chemicals for decades.
"One half of the profits from the sale of this book will be donated to a group in Vietnam that works with the victims of Agent Orange. An additional one half will be donated to the Indochina Arts Partnership to continue their work of art and cultural exchange between the United States and Vietnam."
$1,800