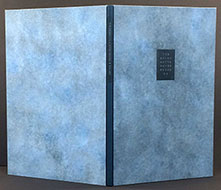 The Kelmscott & Doves Presses
An essay by Alfred W. Pollard
Presented with Leaves from the Kelmscott Golden Legend and the Doves English Bible
Calligraphy by Martin Jackson
Vancouver, British Columbia: Heavenly Monkey , 2019. Edition of 50.
10 x 15"; 30 pages. Set in Centaur type. Printed on dampened Arches wove paper by Rollin Milroy with the Heavenly Monkey handpress. Martin Jackson's calligraphy reproduced from polymer plates, printed in red.
Written issue: copies 1- 12. Handwritten calligraphy. Signed by Martin on colophon. Bound by Claudia Cohen in handmade paper over boards, embellished with gold tooling. Housed in a box.
Printed issue: copies 13-50. Cased with decorated paper over boards.
Heavenly Monkey: "Alfred W. Pollard's introduction to the catalogue of William Andres Clark Jr.'s Kelmscott and Doves collections [was] originally printed in 1921 by John Henry Nash and issued in an edition of 150 copies. HM's edition [is] enhanced by the inclusion of leaves from the Kelmscott Press's 'The Golden Legend' (1892) and the Doves Press's English Bible (vol. 1, 1902); and the incorporation of Martin Jackson's beautiful calligraphy through the text.
"Pollard's essay provides an overview of each press's aims, with particular emphasis on typography and aesthetics, and specific references to 'The Golden Legend' and the Bible. Having pages from those books will provide readers the opportunity to consider Pollard's comments on type design and page layout while examining actual samples of the work. Pollard also discusses the Doves Press's use of calligraphy in its books, and this was the spark for the idea of recruiting Martin for the project. His work [appears] on the title page, the essay's opening, numerous initial capitals throughout, the page numbers and colophon."
$750 Printed issue (spring 2019)
Written issue (SOLD)