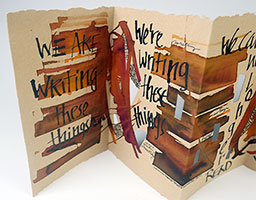 We Are Writing These Things
By Sha Towers
Waco, Texas: Sha Towers, 2018. Edition of 6 variants.
3.75 x 6"; 8 panels. Double-sided accordion structure. One sheet book. Materials: sumi and walnut inks, watercolor, paper. Signed, dated and numbered by the artist. Laid in paper case with slip and slot closure.
Sha Towers: "'We Are Writing These Things' is a variable edition of unique and handmade calligraphic artist's books reflecting on a line from a speech given by Kevin Slavin at a 2011 TEDGlobal talk on 'how algorithms shape our world.' In this talk, Slavin said, 'We are writing these things that we can no longer read . . . we've rendered something illegible . . . and we've lost the sense of what's actually happening in this world we've made.' In this artistic interpretation of Slavin's thought-provoking quote, I've dissected and reassembled fragments of the text, blending them with other mark making that explores ideas of language, communication, illegibility, and fragmentation and the dislocation, disconnection, and dissonance that remains in the wake.
"I chose the accordion structure to represent the possibility of continuity of thought and line juxtaposed with the fragmented representations that paint a picture of lost meaning and illegibility. I used sumi and walnut inks and watercolors with a variety of tools (brushes, folded pens, micron pens and blades) to create the various marks and text fragments."
$375 edition