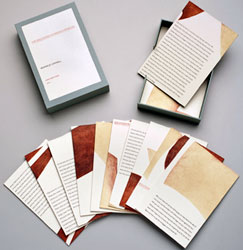 The Solutions to Brian's Problem
By Bonnie Jo Campbell
Huntington Woods, Michigan: Land Marks Press, 2011. Edition of 20.
4.75 x 6.75 x 1.5"; 12 puzzle pieces. Gill Sans and Schoolhouse types printed letterpress from photopolymer plates, combined with pochoir on waranshi paper. Pages are backed with Michigan maple veneer. Housed in box with pull out drawer. Paper title label tipped on box. Colophon tipped in bottom of drawer. Signed by Avadenka and Campbell.
Campbell's story of love and addiction is embodied by the skill and vision of a talented book artist.
Land Marks Press: "In 2009 Michigan author Bonnie Jo Campbell's collection of short stories, American Salvage, was named a National Book Award Finalist. In this new publication from Land Marks Press, Lynne Avadenka presents one of the powerful stories from that collection: 'The Solutions to Brian's Problem.'
"Designed as a puzzle to be solved, Avadenka's edition combines a skillful integration of text and image with an innovative format."
Colophon: "The pieces of this puzzle fit together for you to read the story and to see perhaps the only, unavoidable solution."
Bonnie Jo Campbell was a finalist in the 2009 National Book Award in Fiction. Her collection Women and Other Animals won the AWP prize for short fiction. She resides outside of Kalamazoo Michigan and teaches at Pacific University.
$850