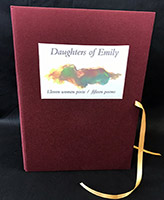 Daughters of Emily
Eleven women poets / fifteen poems
With drawings/vignettes by Ed Colker
Millwood, New York: Haybarn Press, 2018. Edition of 125.
8.5 x 13"; 28 pages and frontispiece. Poems printed letterpress by Bradley Hutchinson on acid free Stonehenge paper. Hand-colored frontispiece on Rives Heavy weight paper. Other visuals printed from the artist's Mylar plates. Leaves laid in cloth covered portfolio with ribbon tie closure. Illustrated paper title tipped on front board. Signed and numbered by the artist.
Ed Colker: "The intent of this collection is - as always - to honor the texts with visual responses and varied choices of typography as new introduction to unique voices and visions that continue to remind and reveal.
"This edition is dedicated to the memory of poets Deborah Pease and Catherine Kasper."
Poets in this portfolio are Lee Briccetti; Lea Graham; Kathryn Hellerstein; Catherine Kasper; Kadya Molodowsky; Kathleen Norris; Nina Pick; Ronnie Scharfman; Rosmarie Waldrop; Jeanne Murray Walker; and Suzanne Wise.
$150