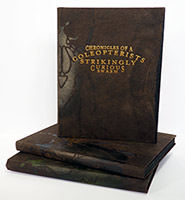 Chronicles of a Coleopterists Strikingly Curious Swarm
By Gabby Cooksey
Tacoma, Washington: Gabrielle Cooksey, 2018. Edition of 26.
13.3 x 10". Letterpress printed at Springtide Press with Jessica Spring in Tacoma, Washington. Mrs. Eave's text printed on photopolymer plates. Suede-tex paper painted with acrylic and methyl cellulose. Bound in Cave paper. Signed and numbered by the artist.
Gabby Cooksey: "12 aluminum beetles with stories. 7 of the stories were written by me. The others are Edgar Allan Poe, Charles Darwin, Hans Christian Anderson, and Aesop.
"This mouthful of a title is meant to be just that, but also a Coleopterist is someone who studies beetles specifically and a swarm is a gathering of beetles. I have always been interested in these insects so researching them was a joy. The stories I made up are meant to feel true, and you question if you've heard of them before or not. This book is meant to feel precious but also rugged; I chose all the materials to withstand a beating like a field guide, but also the craftsmanship in it shows.
"Opening statement in my book: These tales were told to me through whispered words from around the world and researched extensively through old tomes. I write to you now, my fellow believer in myths and legends, trying to provide the truest rendition of these stories into your hands. May you find a beetle of your own, and one day, tell me its fanciful story."
"Colophon: The beetles are crafted out of embossing paper templates and photopolymer plates, stylized with a ball point pen and painted with alcohol ink on aluminum. … Dedicated to Eli for our childhood of bugs and stories."
(SOLD)