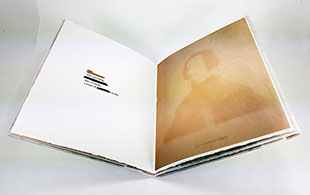 After
By Josh Hockensmith
Pittsboro, North Carolina: Blue Bluer Books, 2018. Edition of 25 + 5 AP.
10.25 x 8.25". Dos-a-dos structure. Materials: paper, book board, book cloth, thread, ink. Letterpress and inkjet printed on Stonehenge, Red River, and Hiromi papers. . Bound in stiff paper boards with cloth spine. Signed and numbered by the artist.
After is a dos-a-dos book with ghost images from the interleaving of an old art catalogue and other images of 'after"-ness, paired with a blackout poem.
Josh Hockensmith: "After is about the life of the book in the digital age and the transitory nature of all things. It's structured in two sections using a dos-a-dos binding. The first section features photos of ghostly afterimages left behind on the glassine sheets protecting plates in a 1929 art history catalog. The real world intrudes at the end of the first section when a thumb appears in the image. As the reader flips to the second side of the dos-a-dos, the imagery pivots to include afterimages of different kinds from the outside world.
"The text in the book is a blackout poem I created using a sequence of poems by 15th-century Japanese Zen monk Ikkyu as the source text. The original sequence – titled Skeletons – is an extended exploration of the same transitory theme as After. I letterpress printed the Ikkyu poems in their entirety from polymer plates before creating the new, book-length blackout poem by brushing over certain words with a combination of sumi ink and gold calligraphy ink.
"The English version of Skeletons is a translation by the great John Stevens, from Wild ways: Zen poems (Buffalo, NY: White Pine Press, 2003), used with the generous permission of the publisher. The book that I photographed the afterimages of artworks from is A catalogue of paintings in the collection of Jules S. Bache (New York: privately printed, 1929).
"I composed the blackout poem as an 'intentional' poem, but I use chance methods to determine which color ink to use when brushing words out: black or gold. For that, I use a printed sheet of randomized numbers between 1-4 that was created by John Cage and my mentor Stephen Addiss for a project they did together in the 1990's. The numbers determine how many words I black out in one color before switching to the other. Each copy of the book has a different pattern of blackout coloration."
$475