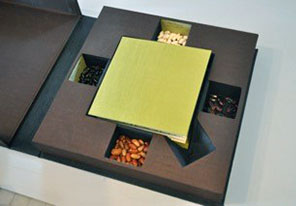 String Bean
Theory Lessons on Nature's Economy
By Beth Thielen
[Chatham, New York]: Beth Thielen, 2016. Edition of 5.
11 x 11.5 x 2.25" custom box containing book and four groups of beans. Four 2 x 2: 1.4" holes contain dried beans: Blue Lake Snap; Kentucky Wonder; Scarlet Runner; and Purple Podded. Finger hole for pulling book from container. Paper title label on lid. Handwritten paper title labels in each bean housing. Materials: Prismacolor pencil; papers - Arches Cover, Color Aid, Crane's soft white 28 lb. text, methyl cellulose paste paper; Charbonnel Aqua Wash etching ink; Jade 403 PVA Glue; Acid free Binder's board; Canapetta linen bookcloth; Asahi silk bookcloth.
Book: 6 x 6" closed; origami fold. Bound in green cloth boards. Printed on an HP Envy 7640 with Garamond Premier Pro font. Signed and numbered by the artist. The origami structure can either be read (carefully) by working through the folds or exposed as a growing, twisting, climbing vine (like, not surprisingly, a string bean vine).
Beth Thielen: "Artist books are so often magical in the way they open. My book 'String Bean Theory' has a kinetic aspect. … the spiraling up of the pages like a bean vine up a pole. The box serves as a plot of earth complete with bean seeds that the book grows up out of. Fully open, the book stands almost as tall as the person holding it. Just as my study of my pole beans unfolded a world of thoughts in me, I made the book to grow and unfold for the viewer. To be a presence…a dance partner, a sibyl.
"The edition of 5 is variant with all the drawings original in each. Making 5 books echoes an early American planting rhyme: 'One for the bug, one for the crow, one to rot, and two to grow.' A working artist is a farmer that knows such odds.
"It uses a repeated Japanese fold glued up to form a spiral when opening. The book had to spiral open. The spiral is nature's way of both defying gravity and through phyllotaxis, allows each leaf its own share of sunlight. It illustrates how cooperative and democratic nature is."
$2,800